This page was last updated on: July 30, 2019
The main purpose of this site was originally to document the slow resurrection of my Maxi Blue 1974 AMC Javelin, a real "Z" code 401 car.

I didn't want to, but decided it was time to sell Maxi in 2017.  For now, this site will stay up. 

There are also pages of photos from local American Motors shows, people's AMCs & Jeeps, scale models, a page of links, etc.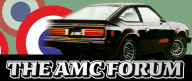 UPCOMING NEW ENGLAND AREA AMC & RELATED CAR SHOWS:

***
= AMC/Rambler/etc specific show  /  MORE INFORMATION ON SOME SHOWS CAN BE FOUND AT
WWW.HEMMINGS.COM
All photos and commentary © Jonelle DeFelice 2003-2019 unless noted otherwise.

Please DO NOT COPY unless with permission