This page was last updated on: June 6, 2017
Welcome!  The main purpose of this site is to document the slow resurrection of my Maxi Blue 1974 AMC Javelin, a real "Z" code 401 car. But there are also pages of photos from local American Motors shows, people's AMCs & Jeeps, scale models, a page of links, etc.

Feel free to browse around!!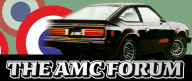 UPCOMING NEW ENGLAND AREA AMC & RELATED CAR SHOWS:

***
= AMC/Rambler/etc specific show  /  MORE INFORMATION ON SOME SHOWS CAN BE FOUND AT
WWW.HEMMINGS.COM
All photos and commentary © Jonelle DeFelice 2003-2016 unless noted otherwise.

Please DO NOT COPY unless with permission