This 1974 Javelin AMX is my boyfriend's baby.  Todd has owned easily more than 30 AMCs in his life, but this one has always been his favorite.  It is in a sort of mid-restoration.  In 2004 he finally installed the 360 he sent out for rebuilding 4 years ago.  The interior is "00" blue, and it has Machine wheels, which along with a dual snorkle ram-air-cleaner, is one of the very few incorrect parts of the car. He is a stickler for originality for the most part, which is why the rebuilt 360 will look stock on the outside, but has been upgraded internally.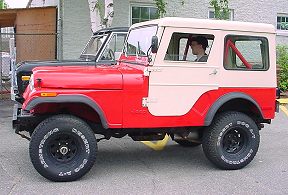 This is Todd's 1979 Jeep CJ5.  Presently it is used mainly for plowing, but he says it will go places you wouldn't expect.  Hopefully in 2005 it will get the orphan '80s 360 from his blue AMX! 

I hope to add photos of people's AMCs to this new page.  Please feel free to
send me a photo
with info!!

Please
EMAIL
me any photos and facts about your AMC!  I will do my best to get your car added to this page so we can add to the AMC community!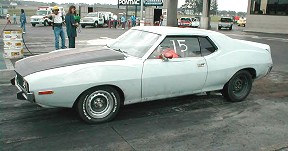 Holley 750cfm Vac Sec, Edelbrock Torker, mildly ported 291c's, Forged Pistons, Crower 296HDP cam, Harland Sharp Roller Rockers 1.6 ratio, (Busted) Heddman 1 5/8" headers, 2 1/2" exhaust w/ H-pipe, Summit Mufflers, 904 trans, Fairbanks 10" converter, Chrysler 8 3/4" rear w/ 3.55's, MT ET Streets 26x10.5x15, N.O.S. Sniper Kit w/ 100-shot jets. Best time on motor: 12.7 @ 106

Best time on n2o: 11.9 @ 114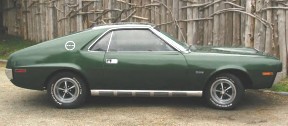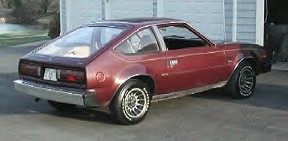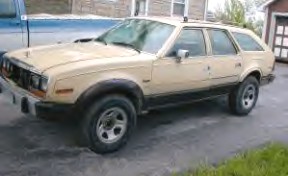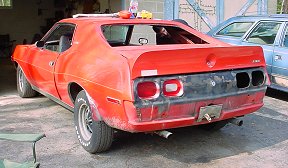 Todd's 1973 Javelin AMX 401 4 speed in quite a state!  A crunched rear quarter is being replaced, along with a door and many other parts.  There's a lot of work to be done, but it should be worth it in the end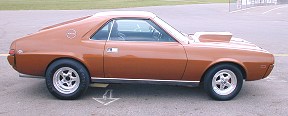 This is Ann "68BSOAMX" 's Bittersweet AMX.  Mods include: ENGINE: 401, 1050 Holley Dominator, MODIFIED high rise Herman Lewis Intake, Indy full port and polish Aluminum AMC Street Heads, etc TRANSMISSION: Low first gear set, reverse manual valve body, 8" Dynamic converter 5000 stall, etc REAR END: Dana 60, 411 gears, Mozer axles
BODY: All heavy, except the bumpers are glass and the hood is glass.Car weighs 3200 lbs., without Ann in it.

INTERIOR: 10-point cage, New carpet, new Arospeed racing seats, new fiberglass headliner, new door panels, etc. . .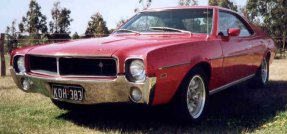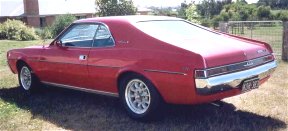 Rod "OzJavelin" is from Australia and his '69 Javelin SST is an AMI (Australian Motor Industries)

assembled '69 Javelin SST - assembled from a CKD (Completely Knocked Down) kit.  It was converted locally by AMI to right-hand-drive configuration.  It has a unique dashboard, but has all the RallyPak

gauges. Engine is a 343V8 4bbl (converted to run on LPG), floor shifted BW M-11 auto transmission, factory disc brake front, LSD rear.  It is originally "Signal Red" which he believes to be a local color (from AMI) not an AMC hue. Interior is black with tilt column and AMI-fitted underdash A/C. Rod's only mod is a set of Minilite-copy mags. 


Mark Morrow's Sundshine Yellow '77 Hornet AMX 258 4speed, soon to be a 304!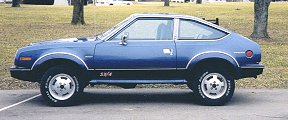 "AMCman76" has this 1983 Eagle SX/4 for a daily driver.  It's a stock automatic with a 1980 258 engine rebuilt in '03,

clifford intake, weber 32/36 carb, and TFI ignition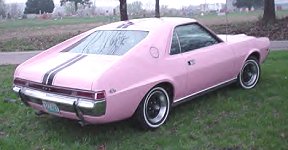 This is a newly discovered factory pink '69 390 AMX.  For years, it was thought that the only pink AMX was given to the '68 Playmate of the Year Angela Dorian, but this actual "00" color-coded car surfaced in '03  and is authentic.  Some info on the car can be found on the American Motors Forum
. 
It is truely a rare AMX!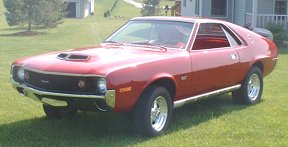 Dave Roe of WI has this '70 AMX Go Pack in matador red with red leather, a '75 401 +.030, JE forged pistons, 10.8:1

70(291c) heads mildly ported with 2.08/1.65 valves,Crane roller rockers, Comp Cam, (custom grind) -solid lifters,

Stock distributor with pertronix trigger (Crane HI-6 box & coil soon), Cam thrust plate/ anti-walk kit, 7qt modified stock pan with external pickup, and valley line, Torker, port matched Holley 800 double pumper, ceramic coated headers, RIchmond gear 5 speed with Lakewood bellhousing, AMC 20 stock 3:15 gear that works perfect with the low geared trans.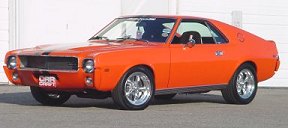 James Seitz (AKA:bbo69amx ) has this '69 in Big Bad Orange.  This image is from the November 2003 Car Craft feature shoot.

"Unstable Bob" Gable's 1973 AMX has a 360 with 727 auto & AMC 20 rear. It is undergoing a radical "rolling" build up.

Soon to be rolling on 18 inch Torque Thrusts w/ BFG G Force TA tires.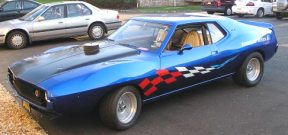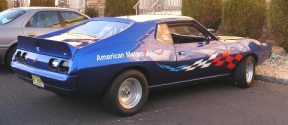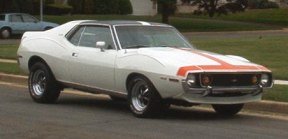 Chet has this 1972 AMX with blue interior and a split blue vinyl top. The car "came from california and has the "red" engine with a/c, automatic transmission and a replacement 4:10 twin grip rear. With a 750 double pump holley and a 100 horse shot of nitrous it turns 11:88 in the 1/4 on 275 BF goodrich radials"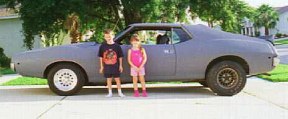 "JavAllen" has this 1971 AMX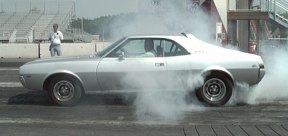 Brian Seeley decorates the pavement with his Mod Javelin!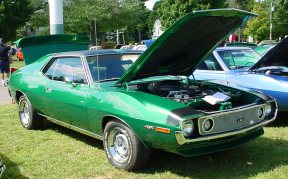 Todd's freind Bob Webb restored this 1971 AMX 401.  He did a GREAT job!  Lots of NOS parts.  This car won an award it's first time at a show.  It has since been sold.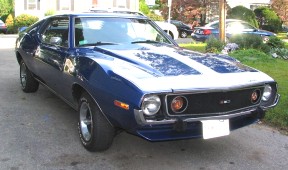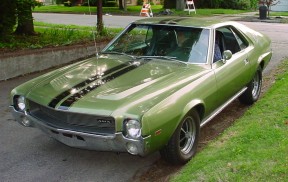 John Gundle from Athol MA re-bought this '69 AMX in 2004.  He owned it many years ago, did some body work to it, then sold it.  I found it on Ebay, and he bought it back! 

Ken W's very sharp 1973 AMX, almost a dead ringer for Todd's car!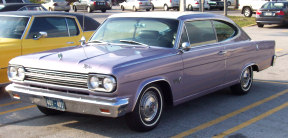 Burt Gonzalez has this nice 1966 Marlin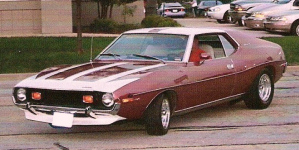 Richard Cruz's 1971 Javelin SST... "1969 amx 390cid t-10 4-speed 4.11 gears thru a posi"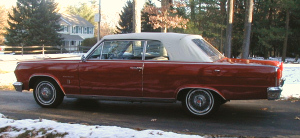 Brad Busque has this 1965 Rambler Ambassador Convertible.  "It has a 270 HP AMC 327 that was rebuilt over the winter of 2008.  Quite a bit faster now, can even burn rubber when starting in 2nd gear, not bad with a slush box for a tranny.  The car has AC, Power Steering and Brakes, AM/FM and tilt wheel, all from the factory.  I have replaced all springs and shocks and installed NOS bumpers, grill and tail lights.  The car is equipped with a Firebird/Camero dual exhaust, so has quite a nice note when cruising down the road."

Mark Roy's 1973 AMX... original owner car with 55k!

360 - 4V, 4 speed , Trak-Pak, Very rare special order black with stripe delete


Bob Ohler's 1-owner 1974 AMX racer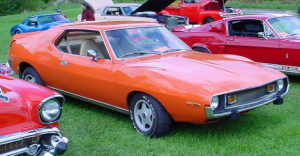 Dave Van's 1973 Javelin (2nd owner)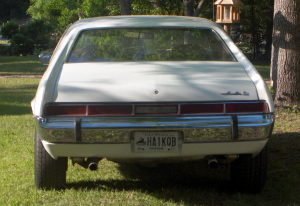 "SOUTHEAST GEORGIA JAVVY GIRL" sent along this shot of her '70 AMX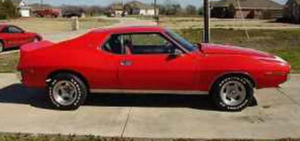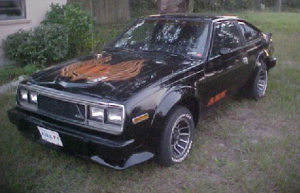 "LThom49086" sent along this pic of their Spirit AMX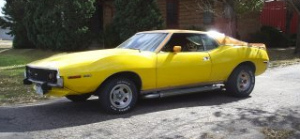 Allen McMullen's 1973 Javelin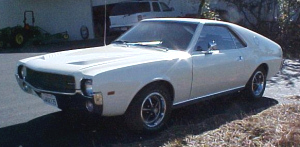 Perry Hollis has this '69 AMX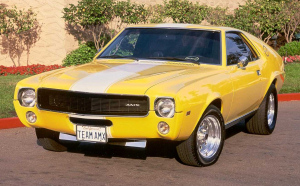 Walt Zimmerman's '68 AMX, "401 with crossed drilled oil galleys ,the oil bypass oil in lifter galley.7 ot. Custom oil pan with trap doors for oil control, external oil line to the pump, ported heads stainless valves .ported torker intake with a ram air intake filter .torque-flite-727 with manual shift, gear vendor overdrive unit & 3:73 rear end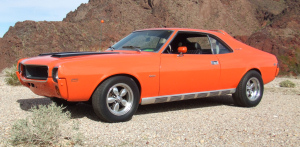 Roman Gora's '69 Javelin in BBO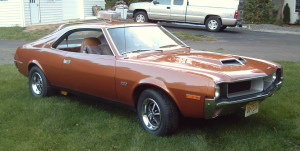 Perry's 1970 Javelin SST 390 (2nd owner)

This page was last updated: June 16, 2015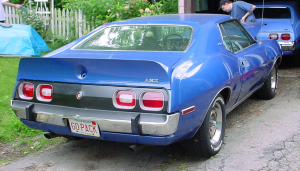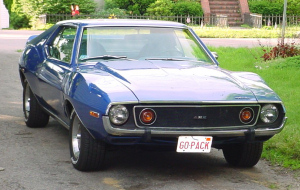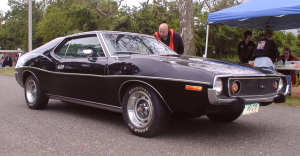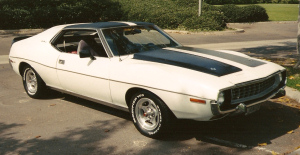 Richard Cruz's 1972 Javelin SST... factory 304 auto