1974 AMC Javelin

Maxi Blue w/Blue "Domino" Cloth

"Z" Code 401 V8 Vehicle

727 Automatic Transmission

140mph "Go Pack" Gauges

I am the second official owner of this car.  The original owner used it regularly until 2001, when it was sold to a friend of my boyfriend, Todd.  That man removed the original 401 engine and automatic transmission.  Then Todd bought it for the blue interior.  He never got around to stripping it out, and it sat in storage for a while.  Todd really didn't need another project at the time, so when I expressed interest in maybe trying to restore it, he let me have it for nothing, but I would have to find all the missing parts.  And thus began the quest for a replacement engine. 

A few months later, I had a used '74 Jeep pickup 401 in my garage.  It spent the winter there, and I tried my best to clean off the caked-on goo that was all over it.  Then came the search for a transmission and various missing parts, checking, reassembly, and painting of the engine, installation, etc.  Once a new exhaust was installed, the car was officially together and on the road.  There were some issues, such as overheating and leaky carbs.  But I drove the car to work on nice days, and the 401 was a hoot.

Then, one fateful day while driving along Rt95 during morning commuter traffic, a valve broke in half, and I just managed to get the car to the breakdown lane.  The result was the eventual installation of Todd's "donor" '80s vintage 360.  The good thing is that engine always ran cool in his '74 AMX.  The bad thing is it has some broken exhaust manifold bolts, resulting in an audible leak.

I currently am on a tight budget, and so not much has been done to improve the car.  Some interior parts have been painted with custom mixed blue interior paint, and look much nicer.  But this will be an ongoing project, and hopefully a worthwhile one...

This page was last updated on: June 16, 2015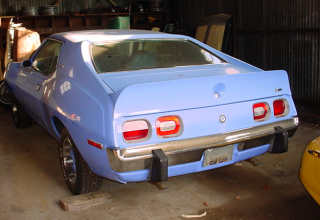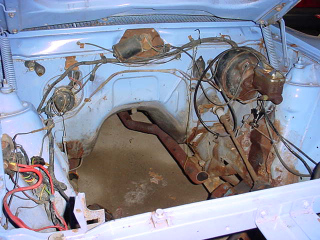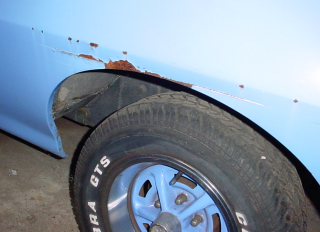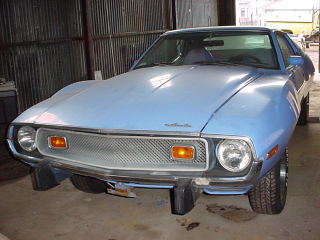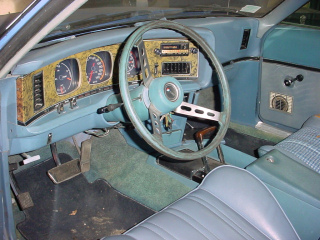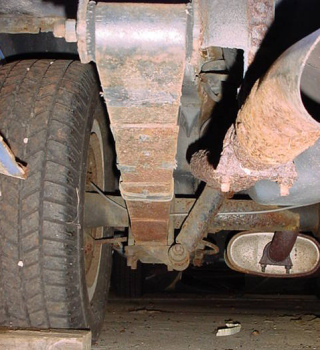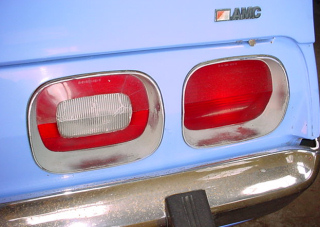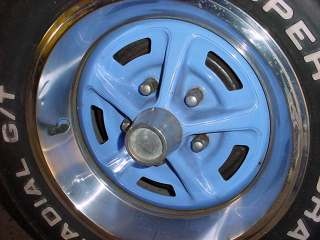 Previous owner installed a non-functioning AMX hood.  Bumpers will at some point need to be re-chromed.  Grille needs some repair and paint. 

The car also has an AMX rear spolier.  Again, not original.  Note the optional large "safety" bumperettes.

The tail lights that came with the car.  The clear lenses were cracked.  I had some spares Todd gave me that I painted and replaced these with.  While they aren't perfect, they look 10 times better than these did!

The very first thing I changed were the wheels.  This is how they looked before I painted them.  They are now semi-gloss black with charcoal, topped off with correct NOS center caps and new lugnuts.  The tires have been replaced with correct size Firestones

The rear fender damage.  There is now a few pounds of Bondo here to get an inspection sticker.  This is the worst section of the body.

The damage on the front fender.  I  have a replacement for future repairs.

Interior was in need of a good clean and detail.  All the panels have faded into different shades of blue.  Some have been painted with custom mixed interior paint and look much better.

This space is where the original 401 once was.  Note the exhaust was just plain cut off as the car was not intended to be saved.

Part of the front suspension.  New Edelbrock shocks have been installed up front, and a set of new coil springs are in the parts pile for the future.

Rear suspenison.  The exhaust was replaced after the engine was installed.  One new shock has been installed in the rear, but the driver side one is a pain to do.  So there is also one new shock in the parts pile for the future as well.

Below are photos of Maxi taken when I first saw it for the very first time in  November 2002.  Looking back, I wish I had taken more!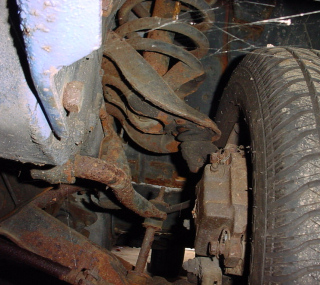 All photos and commentary © Jonelle DeFelice 2009-2012 unless noted otherwise.

Please DO NOT COPY unless with permission